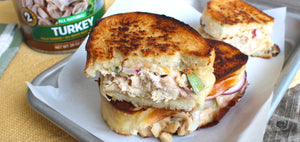 Apricot Grilled Turkey & Cheese
The humble grilled cheese is beloved by all, but some like to dress it up with our all white meat turkey for a night on the town!   Sorry kids, this one is for the parents.
Ingredients
1/2 28 oz. can Keystone Turkey, drained

1 loaf fresh bakery bread, cut in 1-inch slices

1/2 red onion, thinly sliced

1/4 cup apricot jam

1/4 cup mayonnaise

8 slices provolone cheese

1/8 cup fresh sage leaves, chopped

Salted butter
Steps
Heat about 2 tablespoons butter in a medium-sized pan over low heat.

In a small bowl, combine the mayonnaise and apricot jam.

Butter one side of 1 piece of bread with butter. Spread a thick layer of the apricot-mayonnaise spread on the other side.

Place the bread, butter-side down in the pan. Layer red onions, sage, Keystone Turkey, and one slice of provolone cheese on top of the bread.

Top the grilled cheese with another piece of buttered bread, butter-side facing up.

Flip the grilled cheese after roughly 3 minutes or until the cheese is melted.