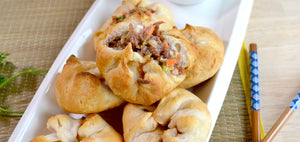 Asian Beef Bites
Before you pick up that takeout menu from the local Chinese restaurant, take a look at our easy and delicious Asian Beef Bites recipe. It's a tasty appetizer that perfectly complements our Chicken Peanut Pad Thai Noodles recipe.
Ingredients
1/2 can (28 oz) Keystone Beef
2 cups cabbage, shredded
1 cup carrots, shredded
1/2 cup onion, diced
1 can refrigerated biscuits (8 biscuits)
2 Tbsp. soy sauce
1 1/2 cups Asian chili sauce
1 tsp. ground ginger
Steps
Preheat oven to 350°F.
In medium bowl, mix Keystone Beef, cabbage, carrots, oniones, soy sauce, chili sauce, and ginger.
Line large cookie sheet with parchment paper. Separate dough into 8 biscuits and add each biscuit to the cookie sheet one inch apart.
Spoon 1 rounded spoonful of the mixture onto center of each biscuit round; stretch biscuit dough up around ball to cover completely. Pinch edges together and twist the top to seal.
Bake 16 to 18 minutes or until golden brown. Serve warm.