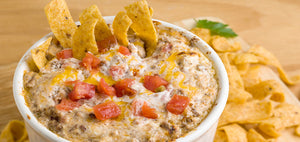 Bacon Cheeseburger Dip
Bored with the typical Queso Dip? Then it's time you stepped it up with a creamy dip that has the perfect amount of bacon and beef. What makes our Cheeseburger Dip so good? The secret is the cream cheese!
Ingredients
1 can (28 oz) Keystone Ground Beef
1 package (8 oz) cream cheese
1 cup sour cream
2 cups cheddar cheese, shredded
1 can (10 oz) diced tomatoes with green chilies
2/3 cup crumbled bacon
Steps
Preheat oven to 350º F.
In a skillet heat ground beef, breaking apart until heated all the way through.
In a large bowl add cream cheese, sour cream, cheddar cheese, diced tomatoes, ground beef and bacon. Mix until well combined.
Pour into a baking dish. Bake for 20-25 minutes until bubbly and hot. Serve hot with corn chips for dipping.