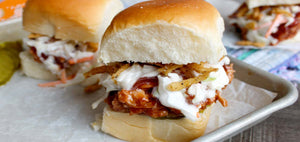 BBQ Chicken Sliders
Bring sweet and sassy to your dinner table and impress even the pickiest eaters with our fast and easy BBQ Chicken sliders.
Ingredients
28 oz Keystone Chicken
1 (15 oz can) tomato sauce
1/4 cup apple cider vinegar
1/4 cup honey
1 Tbsp. brown sugar
2 Tbsp. Worcestershire sauce
2 tsp. paprika
1 1/4 tsp. garlic powder
1/2 tsp. chili powder
For serving
1/2 cup mayonnaise
2 cups coleslaw
1 cup dill pickles, sliced
1 cup french fried onions
24 slider rolls
Steps
Combine all ingredients in a sauce pot and cook over medium-high heat until the mixture starts to bubble, stirring as needed.
Reduce heat to medium-low add Keystone Chicken and simmer 10-15 minutes until thickened, occasionally stirring.
On the bottom of slider bun add ingredients in order: mayo, BBQ chicken, pickles, fried onions.