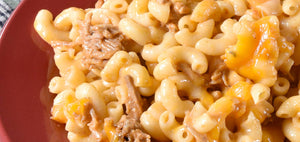 BBQ Pulled Pork Mac
Our BBQ Pulled Pork Mac is a unique twist on the classic mac and cheese recipe. And when you use recipe ready, fully cooked Keystone Pork, you get tender BBQ without the long cook time. Get ready to add a new dimension to the Summer grilling season.
Ingredients
1/2 can (28 oz) Keystone Pork
1 pound elbow macaroni
5 Tbsp. butter
5 Tbsp. flour
1/2 teaspoon salt
4 cups milk
6 cups shredded smoked cheddar cheese, divided
2 cups BBQ sauce
Steps
Preheat oven to 350°F.
Cook pasta according to package directions. Drain and set aside.
Melt butter into a large pot over medium heat.
Whisk in flour and salt. Cook for 1 minute stirring thoroughly. Slowly whisk in milk until smooth. Increase heat to medium-high, stir continuously until liquid thickens and comes to a low boil.
Reduce heat to low and stir in cheddar cheese until smooth then add cooked pasta.
Add BBQ sauce and Keystone Pork. Mix well.
Pour mixture into a large baking dish. Sprinkle with additional cheddar cheese and bake for 15 minutes or until hot and bubbly.