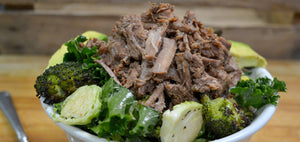 Beef and Kale Power Bowl
Our Power Bowl is a quick meal focused around the superfoods -- kale, broccoli, brussel sprouts and, of course, Keystone Beef. This recipe is a mix of powerful antioxidants that will satisfy you physically and mentally.
Ingredients
1 can (28 oz) Keystone Beef, drained and mixed
1 bunch broccoli, trimmed
5 tbsp. olive oil, divided
Kosher salt
1 small shallot, finely chopped
2 tbsp. apple cider vinegar
1 tbsp. whole grain mustard
1/2 bunch curly kale, ribs and stems removed, leaves torn into 2-inch pieces (about 8 cups)
8 oz. brussels sprouts, trimmed, thinly sliced lengthwise
Freshly ground black pepper
1/2 cup hummus (Optional for Keto Users)
1 avocado, quartered lengthwise
2 tbsp. finely chopped chives
Optional: Crushed red pepper flakes (for serving)
Steps
Preheat oven to 500°F.
Toss broccoli with 1 tbsp. oil on a rimmed baking sheet and season with salt. Roast, turning occasionally, until crisp-tender and charred in spots, 8 minutes. Let cool, then coarsely chop.
Whisk shallot, vinegar, mustard, and remaining 4 tbsp. oil in a large bowl until emulsified; season with salt. Add kale and brussels sprouts and toss to coat; season with salt and pepper.
Massage kale until slightly softened, about 5 minutes. Add roasted broccoli and toss again.
Swipe some hummus along the inside of each bowl with a spoon. Divide salad among bowls and add an avocado wedge and Keystone Beef. Top with chives and sprinkle with red pepper flakes.