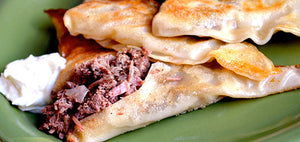 Beef Pierogi
In the time it takes to heat up frozen pierogies, you can be serving your family fresh made pierogis just like grandma used to make! We've taken the Old World traditional flavors you love by using simple ingredients like wonton wrappers and fully cooked Keystone Beef to cut prep time in half.
Ingredients
1 can (28 oz) Keystone Beef, partially drained
1 small onion, diced
Salt and Pepper to taste
1 Tbsp olive oil
1 package frozen wonton wrappers, thawed and covered with damp towel to keep from drying out
2 large eggs
1 Tbsp water
Steps
Heat skillet over med-high heat. Add onion and cook until soft and golden, 3-4 minutes.
Add Keystone Beef with about half of the broth from the can. Shred with a fork and cook until heated through. Salt and Pepper to taste.
Allow mixture to cool to room temperature.
Beat egg with water in a bowl for an egg wash and brush edges of wrapper. Place 2 Tbsp. of filling in the center, fold in half and press edges lightly to seal.
Bring salted pot of water to boil and cook pierogi until they float, 2 to 3 minutes. Drain.
Transfer pierogi to skillet heated with butter. Cook pierogi in batches on medium heat until lightly browned.