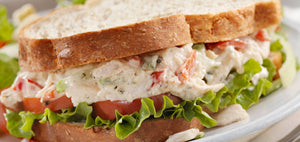 Betta Feta Chicken Sandwich
Our feta chicken sandwich recipe is so tasty, it'll make your family picnic betta! And because you use fully cooked premium Keystone Chicken, you'll spend less time preparing and more time fending off the picnic insects!
Ingredients
1 can (28 oz) Keystone Chicken, drained
1 red bell pepper, seeded and diced
2 large stalks celery, diced
½ onion, diced
7 tablespoons mayonnaise
7 tablespoons sour cream
4 ounces feta cheese, crumbled
1 teaspoon dried dill weed
8 slices of bread
Salt and pepper to taste
Steps
In a small bowl, add mayonnaise, sour cream, feta cheese, dill, and mix well.
In a medium serving bowl, mix the Keystone Chicken, celery, and onion.
Pour mayonnaise mixture over the chicken mixture and stir thoroughly.
Taste and season with salt and pepper as needed. Refrigerate or serve immediately!