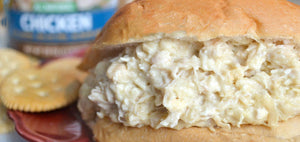 Bitz of Ritz Shredded Chicken Sandwich
Puttin' on the Ritz - or should we say puttin' in the Ritz. Either way, you'll crack the picky eater at your next family gathering.
Ingredients
28 oz can Keystone Chicken
1 can (10.75 oz) cream of chicken or cream of mushroom soup
1 cup sour cream or plain greek yogurt
1 sleeve of Ritz crackers, crushed
3/4 stick butter, melted
6 fresh buns
Steps
In a large bowl, mix the soup and the sour cream until well blended. Fold in the Keystone chicken.
Add into a large fry pan. Top with cracker crumbs and poppy seed (if using). Drizzle melted butter over the top of the crumbs.
Heat on medium for 10 minutes or until heated throughout.