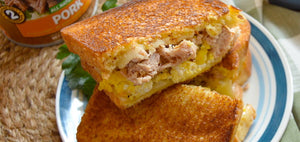 Breakfast Grilled Cheese Sandwich
We've taken the classic grilled cheese sandwich and stuffed it with a hearty portion of fully cooked Keystone Pork and scrambled eggs! So tasty and easy to make, this morning eye-opener will be sure to bring your family back to the breakfast table.
Ingredients
1/2 can (28 oz.) Keystone Pork, drained
6 eggs, scrambled
6 Tbsp. butter
8 slices Baby Swiss cheese
8 slices brioche bread
Salt and pepper to taste
Steps
Scramble eggs to liking, and add salt and pepper to taste. Set aside.
In a large buttered skillet, start the grilled cheese by placing one slice of buttered brioche bread down in the pan. Then create layers by starting with 1 slice of Baby Swiss cheese, followed by Keystone Pork, another slice of cheese, the cooled scrambled egg, one more slice of cheese, then finishing with a slice of bread.
Flip the sandwich once the first slice is golden brown and the cheese is starting to melt. You may need to lower the heat so the bread doesn't burn before the cheese melts. Add extra butter to the pan before each flip is key!