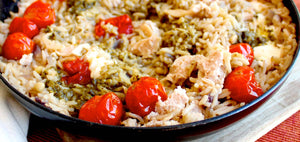 Caprese Chicken Risotto
Our full-flavored Caprese Chicken Risotto recipe will surely be on your go-to dinner list. All of the ingredients of this flavorful recipe simmer together in Keystone Chicken Broth and recipe ready Keystone Chicken to make a meal that's not only easy to make but, more importantly, delicious! 2023 Keystone Cookbook Recipe.
Ingredients
1 can (28oz) Keystone Chicken
2 cans (28 oz) Keystone Chicken Broth
2 Tbsp. Oil
1 Onion, chopped
3 Garlic cloves, chopped
2 1/2 cups Arborio rice
9 oz Cherry tomatoes
1/2 tsp. Salt
1/2 tsp. Black pepper
3 Tbsp. Pine nuts
9 oz Mozzarella cheese
2/3 cup Basil pesto
Steps
Heat most of the oil in a large pan or wok, and add the chopped onion and garlic. Cook over a medium heat for a few minutes, stirring regularly, until soft and translucent.
Add the arborio rice, and mix well to combine.
Add a good splash of the stock, and mix well. Bring to a gentle simmer, and stir regularly. Allow the majority of the stock to be absorbed by the rice before adding a little more. Add 1-2 cups at a time.
While the rice is simmering, roast the tomatoes. Add chicken and stir. Add them to a baking dish, sprinkle with salt and pepper, and drizzle with a little more oil. Roast at 375°F for around 25 minutes, or until they're soft.
You also need to toast the pine nuts while the rice is cooking. Add them to a dry frying pan over a medium heat, and cook until they are golden brown. Once they begin to brown, they can burn quickly, so keep an eye on them, and shake the pan regularly to help them cook evenly. When they're browned to your liking, immediately remove them from the pan to stop them from browning further.
Continue adding the chicken stock to the risotto until the rice is soft - it usually takes around 30-40 minutes or so.
Add pieces of mozzarella cheese to the risotto, along with half of the roasted tomatoes, half of the basil pesto, and a generous amount of black pepper. Mix gently to combine, until the mozzarella has melted. Serve topped with the remaining roasted tomatoes and the toasted pine nuts, and drizzled with the remaining pesto.