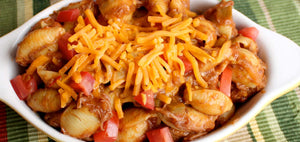 Cheese & Beef Pasta
Why do we think our tasty Cheese and Beef Pasta recipe is easy? You'll only use a skillet, so clean-up is a snap. PLUS, by using fully cooked Keystone Beef, prep time is faster. Easy and oh so cheesy.
Ingredients
1 can (28 oz) Keystone Beef, drained
1 can (27 oz) Keystone Beef Broth
3 cups uncooked shell-shaped pasta
1 can (10.75 oz) condensed nacho cheddar cheese soup
1 cup chunky salsa
1 cup shredded cheddar cheese (optional)
1/2 cup tomato, diced (optional)
Steps
In a large skillet add Keystone Beef and heat until warm, about 2 minutes. Add Keystone Beef Broth to the skillet and heat to a boil.
Stir in the uncooked pasta and reduce the heat to medium. Cook for 10 minutes or until the pasta is tender, stirring often.
Stir in the soup, salsa and cook until the mixture is hot, about 5 minutes. Remove from heat and top with diced tomatoes and cheddar cheese. Serve warm.