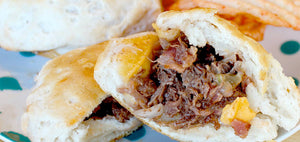 Cheeseburger Bacon Bombs
Forget all about firing up the charcoal to grill your favorite cheeseburger, because we have a recipe that's 'da bomb'. Your family will love how fun - and tasty - these mini Keystone Beef, bacon stuffed cheeseburgers are to make and eat. Our Cheeseburger Bacon Bombs are a handy treat perfect for after school snacks and your next tailgate.
Ingredients
2 Cups Keystone Beef
6 slices cooked bacon, chopped
1 can refrigerated biscuits (8 biscuits)
4 slices American cheese
¼ cup pickles, diced
½ cup onions, diced
1 cup ketchup
Steps
Preheat oven to 350°F.
In a large bowl, mix Keystone Beef, onions, pickles, bacon and ketchup.
Separate dough into biscuits; let stand 5 minutes. Gently pull each biscuit apart, forming a deep pocket. Place 2 quartered pieces of American cheese inside each biscuit pocket.
Holding opened biscuit in hand; place about one heaping tablespoon of the mixture inside, pressing inside to fit. Gently stretch dough over filling, pressing and firmly sealing around edges of biscuit. Reshape into round ball, and place on cookie sheet.
Bake 18 to 22 minutes or until biscuit tops are golden brown. Serve warm.