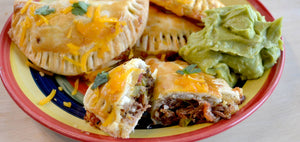 Cheesy Beef Empanadas
Why is this Cheesy Beef Empanadas recipe so easy to make? It's simple. All of the ingredients in this recipe are found in your pantry - especially fully cooked Keystone Beef. It may only take you 35 minutes to prepare this authentic Mexican recipe, but it'll be gone in minutes!
Ingredients
1 can (28 oz) Keystone Beef drained and chopped
1 Tbsp. olive oil
1 onion, chopped
3 cloves garlic, minced
3 tsp. cumin
1 cup chopped tomatoes
1/2 cup jalapeños, chopped
1 cup shredded cheddar cheese
1 cup pepper jack, shredded
2 empanada dough or refrigerated pie crusts
Egg wash, for brushing
Sour cream or guacamole for topping
Steps
Preheat oven to 400° and line two large baking sheets with parchment paper.
In a large skillet over medium heat, heat oil. Add onion and cook until soft, about 5 minutes, then add garlic and cook 1 minute more.
Add Keystone Beef and cook, breaking meat up with a wooden spoon, for 3 minutes. Mix in cumin and season with salt and pepper. Add tomatoes and jalapeños and cook until warm throughout, about 3 minutes.
Remove from heat and let cool slightly.
Place dough on a lightly floured surface and divide in half. Roll one half out to ¼" thick. Using a 4.5" round cookie cutter, cut out rounds. Repeat with remaining dough.
Lightly moisten outer edge of a dough round with water and place about 2 tablespoons filling in center and top with cheddar and pepper jack. Fold dough in half over filling. Use a fork to crimp edges together. Repeat with remaining filling and dough.
Place empanadas on prepared baking sheets and brush with egg wash. Bake until golden and filling is warmed through, about 20 minutes. Garnish with cilantro and serve with sour cream or your favorite guacamole.