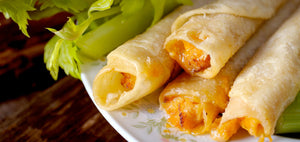 Cheesy Chicken Taquito Recipe
Crunchy, cheesy, chicken-y ... the perfect finger food for children, big children, and husbands. Make a fun dip buffet and watch the whole pile of taquitos disappear. Double or triple batch and pop the extras in the freezer - they come back to crispy life after just a few minutes in a 325 degree oven.
Ingredients
1 can (28 oz) Keystone Chicken
16 flour tortillas
8 oz cream cheese
4 oz shredded cheddar cheese
4 oz Taco Bell salsa
2 Tbsp. cooking oil of choice
Steps
Combine Keystone Chicken, cream cheese, shredded cheese and salsa. Mix well.
Spread the mixture on one end of a tortilla. Roll the tortilla around the mixture. Repeat until all chicken filling and tortillas are gone.
Heat oil in a skillet over medium heat.
Add taquitos to the skillet and brown on each side then serve. You can serve with salsa and sour cream if you like.