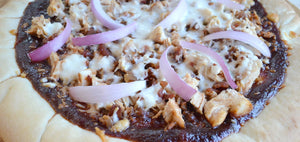 Chicken and Bacon BBQ Pizza
Who has time to make a fresh pizza from scratch? You do! You'll have hot pizza on the table in less than 20 minutes when you use fully cooked Keystone Chicken. Say goodbye to slow pizza delivery and hello to a family tradition.
Ingredients
1/2 can (28 oz) Keystone Chicken, drained and diced
1 pizza crust, medium
1/2 cup BBQ sauce (your favorite)
1/2 cup shredded mozzarella cheese (add more if desired)
1/4 cup bacon, precooked and diced
1/4 small red onion, thinly sliced
Steps
Preheat oven to 350 degrees.
Spread BBQ sauce on pizza crust. Add diced Keystone Chicken on top of BBQ sauce, then add precooked bacon.
Sprinkle mozzarella cheese on top, then slices of onion.
Place in oven, bake 10-12 minutes until crust is lightly browned.