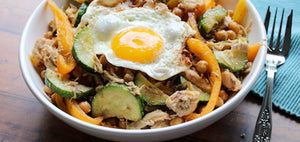 Chicken and Chickpea Breakfast Hash
Our easy breakfast recipe combines fresh veggies, chickpeas, and all natural chicken (from yours truly, Keystone Meats) for a hearty start to the day! And because all of the ingredients are cooked in a skillet, clean-up is a snap.
Ingredients
1/2 can (28 oz) Keystone Chicken, drained
4 Tbsp. oil
1 zucchini, sliced
1 can (15 oz) chickpeas, drained
1/2 yellow pepper, sliced
1/2 orange pepper, sliced
1 medium red onion, sliced
1 tsp. cumin
1/2 tsp. coriander
1/2 tsp. salt
2 eggs
Steps
Heat the oil in a skillet over medium-high heat. Add the peppers, onions and zucchini and saute until soft, about 5 minutes.
Add the chickpeas, Keystone Chicken, spices and mix well. Cook until mixture is warm throughout, about 10 minutes.
Move the veggie mixture to the side of the skillet to create a well in the middle of the pan. Crack two eggs into the well and cook to your liking. Serve warm.