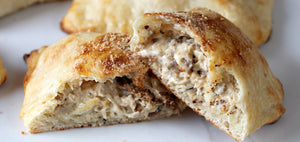 Chicken and Sausage Hand Pies
Filled with recipe ready Keystone Chicken, cream cheese and savory sausage, our hand pies are a tasty appetizer for your next get together or tailgate. So easy to make, you'll always want to keep this pie recipe on hand.
Ingredients
1 can (14 oz) Keystone Chicken, drained
8 oz Italian sausage
6 oz cream cheese, room temperature
1/2 cup Mozzarella
2 (13.5 oz) packages of refrigerated pizza crust
All-purpose flour for rolling out pizza dough
1 egg, beaten for egg wash
1/2 cup Parmesan cheese for topping
1 1/2 cups marinara sauce for dipping
Steps
Preheat the oven to 400 degrees F. Heat the olive oil over medium-high heat in a medium-sized skillet. Add the sausage and cook until crumbled, about 5 minutes.
Add Keystone Chicken and mix with the cooked sausage. Cook until warmed throughout, about 3 minutes.
Turn off the heat and let cool for about 5 minutes. Add the cream cheese, mozzarella and stir to combine. Set aside.
Roll out the pizza dough on a lightly floured surface to a thin 20x12 rectangle. Cut the rectangle in half lengthwise cutting into 8 equal rectangles. Spoon chicken/sausage mixture onto 1 side of each of the rectangles. Using a pastry brush, brush the edges of the rectangle with egg wash.
Close the rectangle of pizza dough over the meat mixture. Use a fork to seal and crimp the edges. Place the hand pies onto a parchment paper-lined baking sheet. Brush the top of each hand pie with egg wash. Sprinkle with Parmesan cheese. Bake until golden, about 12 to 15 minutes.