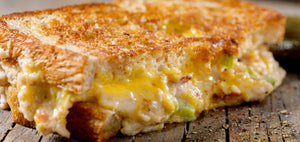 Chicken Avocado Grilled Cheese Sandwich
Sorry, kids, this isn't your typical lunchtime grilled cheese sandwich. We've added recipe ready Keystone Chicken along with fresh-tasting avocado to make an oh, so melty award-winning recipe!
Ingredients
1 can (28 oz) Keystone Chicken, drained
4 avocados, ripe
1-1/2 cup mayonnaise
2 garlic cloves, minced
16 slices American cheese
1 medium red onion, diced
16 slices country white bread
Steps
Drain Keystone Chicken and add to medium mixing bowl. Add 1 cup of mayonnaise and garlic.
Remove skin and pit of avocados, add into a separate bowl. Mash to chunky consistency.
Layer each sandwich with avocado, two slices of cheese, Keystone Chicken mixture and onion and top with a slice of bread. Spread the remaining 1/2 cup of mayonnaise on the outsides of the bread.
In a large nonstick skillet, grill sandwiches over medium-low heat until golden brown and cheese is melted, 2-3 minutes per side.