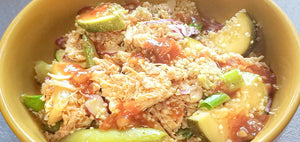 Chicken Buddha Bowl
We've stepped up the standard veggie buddha bowl recipe by adding high protein Keystone Chicken. And when you whip up this colorful and delicious recipe, your guests will be "bowled" over on how it took just 12 minutes to prepare.
Ingredients
1 can (28 oz) Keystone Chicken, drained
1 bunch of broccoli florets
1 zucchini, sliced
3/4 cup pineapple chunks
1 red pepper, sliced
2 Tablespoons sesame oil (may use any high cooking oil)
1 tablespoon soy sauce
1/2 cup snap peas
1/2 cup scallion onion, sliced
2 cups Quinoa, cooked
1 jar (14 oz) Asian BBQ sauce
1/2 cup sesame seeds
Steps
In a large non-stick skillet or wok, heat the sesame oil over medium-heat. Add soy sauce, vegetables, Keystone Chicken and stir fry approximately for 5 minutes or until vegetables are tender. Stirring frequently.
Add desired amount of Asian BBQ sauce, mix in pineapple, sesame seeds and stir throughly.
Add a small scoop of Quinoa to individual bowls and scoop stir fry mix on top ... enjoy!