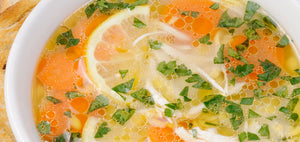 Chicken Lemon Orzo Soup
Our chicken soup recipe, with a hint of lemon, is a light and refreshing addition to any meal. Or if you prefer a more robust and hearty soup, use an additional can of Keystone Chicken.
Ingredients
1 can (28 oz) Keystone Chicken, undrained
½ jar Keystone Chicken Soup Base
5 quarts water
1/2 cup each chopped carrots, celery, onion
1 Tbsp. olive oil
1/2 lb. orzo
1 Tbsp. fresh chopped dill
Juice from half large lemon
Half bag fresh baby spinach
Steps
Drizzle olive oil in large pot.
Sautee carrots, celery and onion until onion is translucent.
Add water and Keystone Chicken Soup Base, bring to a boil.
Add Keystone Chicken, including broth from the can, as well as orzo.
Cook until orzo is tender, about 9 minutes.
Stir in dill, lemon juice and spinach and serve.