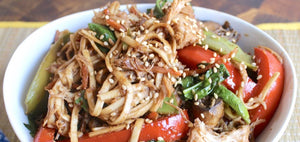 Chicken Lo Mein
If you're looking to cook an authentic Chinese dish - that tastes as good as your favorite restaurant - look no further! You'll make this delicious recipe in less than 20 minutes because of the time you save in using fully cooked Keystone Chicken. Skip the carryout and surprise your family tonight ... chopsticks are optional!
Ingredients
1 can (28 oz.) Keystone Chicken, drained
8 oz. lo mein egg noodles
2 Tbsp olive oil
3 cloves garlic, minced
2 cups mushrooms, sliced
1 red bell pepper, sliced
1 carrot, sliced
1/2 cup snow peas
3 cups baby spinach
2 Tbsp sesame seeds, for garnish
FOR THE SAUCE
4 Tbsp reduced-sodium soy sauce
3 tsp sugar
2 tsp sesame oil (may substitute vegetable oil)
1 tsp ground ginger
2 tsp Sriracha sauce
Steps
In a small bowl, whisk together soy sauce, sugar, sesame oil, ginger, and Sriracha; set aside.
In a large pot cook noodles according to package instructions; drain well.
Heat olive oil in a large skillet or wok over medium-high heat. Add garlic, mushrooms, bell pepper, and carrot. Cook, stirring frequently, until tender, about 4 minutes.
Stir in snow peas and spinach until the spinach has wilted, about 3 minutes. Add Keystone Chicken, mix well.
Stir in egg noodles and soy sauce mixture, and gently toss to combine. Garnish with sesame seeds and serve.