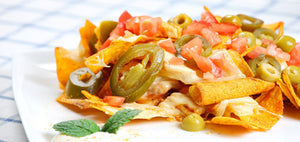 Chicken Nachos
Who has the time to prepare, cook and shred the chicken for your nacho topping? Make the perfect nachos every time with fully cooked Keystone Chicken. No fuss and more importantly, no mess!
Ingredients
1 can (28 oz) Keystone Chicken
1 Pouch Taco Seasoning
Large Bag Tortilla Chips
2 cups shredded cheese
1 cup chopped tomato
1/4 cup green olives, pitted and sliced
1/4 cup sliced jalapeno
1/4 cup onion, chopped
1 can (14 oz) black beans, drained and rinsed
Sour cream (optional)
Chopped avocado (optional)
Steps
Pour chicken with juices into medium skillet.
Add seasoning and heat through.
Pour chips onto cookie sheet, cover with cheese and heat in 350 degree oven until cheese is melted.
Layer rest of ingredients over chips, including Keystone Chicken.