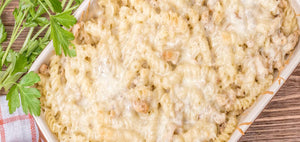 Chicken Noodle Casserole
What makes this classic noodle casserole recipe so easy to prepare? Well, it's because the recipe uses our fully cooked chicken, of course! And by using only 5 ingredients, you'll go from prep to the dinner table in about 30 minutes.
Ingredients
1 can (28 oz) Keystone Chicken
1 can (10.5 oz) condensed cream of mushroom soup
½ cup milk
2 cups egg noodles
½ cup Parmesan Cheese
Steps
Preheat oven to 400º F.
Boil water and cook egg noodles for 6-8 minutes.
In a casserole dish, mix the drained Keystone Chicken, soup, milk and noodles.
Bake for 20 minutes, then stir and top with cheese. Bake for 5 more minutes until golden brown.