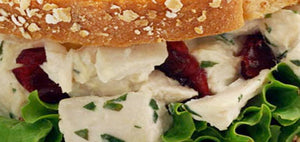 Chicken (or Turkey) Salad
This fresh recipe is perfect for picnics or a light meal. Change it up and use any can of Keystone Turkey in place of chicken.
Ingredients
1 can (28 oz) Keystone Chicken or Keystone Turkey, diced
3/4 cup cranberries chopped
1 heaping Tbsp. dill relish
1/2 tsp. salt
1/4 tsp. pepper
1/2 tsp. rosemary leaves
1/2 tsp. culinary lavender leaves
1 cup low fat sour cream
dash of parsley
1 small onion, diced
crackers, bread of choice, or lettuce
Steps
Slowly add each ingredient, mixing well. Chill in refrigerator for 20 minutes, serve with crackers, bread or on a bed of lettuce.