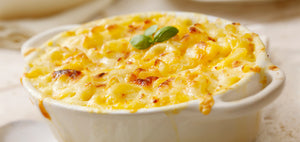 Chicken Parmesan Mac and Cheese
This tasty recipe is a take on the classic Chicken Parmesan recipe we all love. The difference is how easy our mac and cheese recipe is to make ... especially when you use fully cooked Keystone Chicken. 
Ingredients
1/2 can (28 oz) Keystone Chicken
16 oz macaroni pasta
2/3 cup panko breadcrumbs
1/4 cup butter
4 cloves garlic, minced
1/4 cup flour
4 1/2 cups milk
1 Tbsp. cornstarch
Salt and pepper, to season
1 Tbsp. chicken bouillon powder
3/4 cup cheddar cheese, shredded
2 cups Parmesan cheese, grated and divided
6 oz mozzarella cheese, shredded
Steps
Preheat oven to 375°F.
Boil pasta in salted water until al dente. Drain and rinse well with cold water. Set aside.
Melt the 1/4 cup of butter in the same pan. Add the garlic and sauté for 1 minute. Whisk in the flour; continue to cook while whisking for 2 minutes. Reduce heat to low; gradually whisk in 4 cups of the milk. Bring to a boil until the mixture begins to thicken.
In a separate large pan, combine the cornstarch and remaining 1/2 cup milk; whisk until lump-free and stir thoroughly until the white sauce thickens completely. Season with salt and pepper and stir in the bouillon powder.
Remove from heat and add in the cheddar, 3/4 cup of Parmesan cheese, and mozzarella.
Stir thoroughly until all of the cheese has melted. Add the pasta in the sauce until completely coated.
Add mac and cheese mixture to a 9 x 13 casserole dish. Top with the panko and the remaining Parmesan cheese.
Bake for 10-15 minutes, or until bubbling. Allow to cool down slightly before serving.