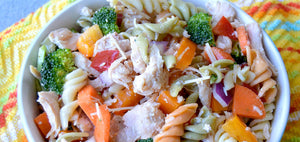 Chicken Pasta Salad
Need a quick but delicious meal to prepare for a family event, holiday or potluck? This Chicken Pasta salad is hearty, healthy and delicious. Make the recipe the day before for less stress, so you can focus on other important tasks. Cut meal prep time in half by using fully cooked Keystone premium Chicken for a quick and impressive dish.
Ingredients
1 can (28 oz) Keystone Chicken, chunked and drained
8 oz cooked & drained pasta, any shape
1 package (16 oz) frozen vegetables, any mixture or 2 cups chopped fresh broccoli, carrots, green & red peppers, etc.
2/3 cup Italian salad dressing
1/4 cup parmesan cheese, grated
1/2 tsp garlic powder
Steps
Cook pasta per directions on package; thaw frozen vegetables (or use freshly cut vegetables)
Combine Keystone Chicken with all ingredients in a large serving bowl.
Mix well, chill. Can be made a day ahead of time.
Serve chilled over lettuce if desired.