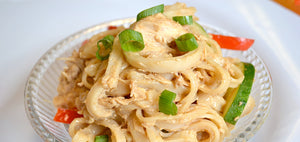 Chicken Peanut Pad Thai Noodles
Our Peanut Pad Thai recipe is so tasty; you'll forget about take out at your local Chinese restaurant! And because you use recipe ready Keystone Chicken, you'll spend more time enjoying than prepping.
Ingredients
1 can (28 oz) Keystone Chicken
8 oz Pad Thai Asian noodles
1Ž/2 cup cucumber, cut into half moons
1 red bell pepper, thinly sliced
2 scallions, sliced
For the peanut sauce:
1/2 cup peanut butter
1/3 cup water
3 Tbsp Sriracha or other favorite hot sauce
3 Tbsp soy sauce
2 Tbsp olive oil
2-3 Tbsp lime juice
1/2 Tbsp garlic powder
Steps
Cook the Pad Thai Asian noodles according to package directions. Drain and return to pot. Drizzle with a small amount of olive oil to prevent them from sticking together. Set aside.
In a medium saucepan, combine all of the peanut sauce ingredients. Stir over medium-low heat continuously until the sauce is smooth. Remove from heat and set aside.
Add bell pepper, cucumbers and Keystone Chicken to the sauce, and mix until combined. Pour the sauce over noodles. Top with sliced scallions and serve immediately.