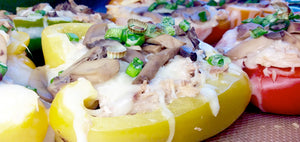 Chicken Pepper Pizza
Prepped and ready to use at a moments notice, Keystone Chicken makes this recipe (and your life) easier. Enjoy this Chicken Pepper Pizza recipe from Food Fitness by Paige and in less than 25 minutes you'll see what all the fuss is about.
Ingredients
1 can (14.5 oz) Keystone Chicken
4 bell peppers, assorted colors
8 oz pizza sauce
Pepperoni slices, to taste
1/2 cup shredded mozzarella
1/2 cup shredded parmesan
4 oz sliced mushrooms
1 green onion, diced
Steps
Cut bell peppers in half and remove all seeds and stems. Fill equally with pizza sauce, chicken, pepperoni, mozzarella, parmesan, mushrooms and green onion.
Put on lined cookie sheet, bake at 350°F for 20 minutes.
Serve with a side salad.