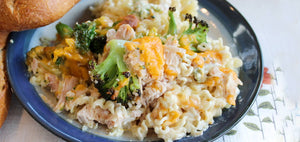 Chicken Ramen Noodle Casserole
We've transformed the dorm-friendly ramen noodles into a satisfying casserole the whole family will love! Creamy and cheesy with just the right amount of Keystone Chicken mixed in to make it a hearty meal that's ready in just 30 minutes.
Ingredients
1 can (28 oz) Keystone Chicken, drained
Six 3-ounce packages chicken-flavored ramen noodles (save 3 flavor packets - discarded the remaining 3)
1 tub (8 oz) whipped plain cream cheese
4 cups milk
1 package (10.8 oz) frozen broccoli florets
8 oz cheddar cheese, shredded
Steps
Preheat the oven to 400° F.
In a 13-by-9-inch baking dish, place the ramen noodle squares in a single layer covering the bottom.
Whisk together the cream cheese, milk and the 3 reserved flavor packets from the ramen in a medium bowl.
Pour the mixture over the ramen. Scatter the Keystone Chicken over the sauce and noodles and then scatter the broccoli.
Sprinkle with cheddar cheese evenly across the top of broccoli.
Bake until the noodles are cooked throughout and the cheese melts, approximately 25 minutes.