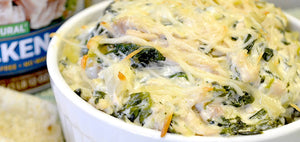 Chicken & Spinach Artichoke Dip
This creamy spinach artichoke dip stands out from other me-too recipes, especially when you add fully cooked Keystone Chicken. The perfect dip for veggies, tortilla chips and pita bread, or dollop a spoonful over your baked potato!
Ingredients
1 can (14.5 oz.) Keystone Chicken, drained
4 ounces cream cheese
1 can artichoke hearts, drained, and finely chopped
1 10-ounce package frozen chopped spinach, thawed, drained, and finely chopped
1/2 cup grated parmesan cheese
1/2 cup shredded pepper jack cheese
1/2 cup mayonnaise
1/2 teaspoon garlic powder
1/4 teaspoon salt
Steps
Microwave cream cheese in a small mixing bowl on high for 1 minute, or until soft.
Add the artichokes, spinach, parmesan and pepper jack cheeses, mayonnaise, garlic powder, Keystone chicken and salt, stirring to combine.
Bake at 350 degrees in an oven safe dish for 10 minutes or until bubbly.
Serve hot with crackers or crostini.