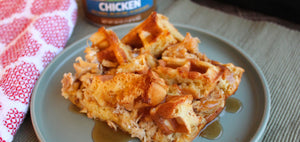 Chicken & Waffles Christmas Morning Casserole
Ol' Saint Nick will be upset he didn't stick around for this quick and tasty (and memorable) breakfast.
Ingredients
1 can (28 oz) Keystone Chicken
9 Belgian waffles, cooked
8 Eggs
3/4 cup Whole milk
1/2 cup Maple syrup
2 Tbsp. Butter, melted
1 tsp. Vanilla extract
1/2 tsp. Cinnamon
Steps
Preheat oven to 350 °F.
Cut each Belgian waffle into equally sized squares, and place in a greased 9x13 pan.
Drain the Keystone Chicken and arrange around the 9x13 pan, making sure to evenly disperse within the waffles.
In a large bowl, whisk the eggs, whole milk, vanilla extract, butter, maple syrup, and ground cinnamon.
Equally pour over the chicken and waffle mixture, making sure each part of the casserole is saturated with the egg mixture.
Bake for 30-40 minutes or until the waffles are golden brown and the casserole is fully cooked. Enjoy!