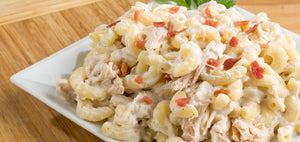 Easy Alfredo Pasta Bake
Our Chicken Alfredo recipe is a fresh take on the same-old-same Mac and Cheese recipe. And it's so creamy and tasty, your family will think you spent hours in the kitchen. The secret? Using recipe ready Keystone Chicken. When you use fully cooked Keystone Meats in your recipes, you'll cut meal prep in half and gain more family time!
Ingredients
1 can (14.5 oz) Keystone Chicken
16 oz elbow macaroni
2 Tbsp. butter unsalted
2 Tbsp. all-purpose flour
1 cup heavy cream
3/4 cup parmesan cheese, grated
1 cup mozzarella cheese, shredded
Bacon bits, salt and pepper to taste
Steps
Turn your broiler on. Cook pasta according to package instructions.
In a 13" x 13" baking pan melt butter, pour the heavy cream in the skillet and whisk it.
Add the flour and continue whisking until sauce thickens.
Season with salt and pepper (to taste) and add the parmesan cheese. Continue whisking.
Add Keystone Chicken and pasta to pan and mix well.
Top with mozzarella cheese and place under the broiler for about 4 minutes until cheese is bubbly and golden brown, checking often to make sure the top doesn't burn.
Add more parmesan cheese and bacon bits to top it off, if preferred.