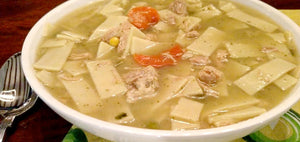 Easy Chicken Noodle Soup
A lunchtime favorite from stovetop to table in under 10 minutes. We've taken the traditional chicken noodle soup recipe and made it easier by using fully cooked Keystone Chicken.
Ingredients
1 can (28 oz) Keystone Chicken, undrained
4 (27 oz) cans Keystone Chicken Broth or 1 (8 oz) jar Keystone Chicken Soup Base
2 cups uncooked egg noodles
1 medium carrot, sliced
1/2 cup chopped onion
Salt and pepper to taste
Steps
Add all ingredients including a can of Keystone Chicken (undrained) to large pot and bring to a boil.
Reduce heat, stir and simmer until noodles are tender.