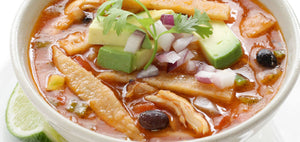 Easy Chicken Tortilla Soup
Keystone Chicken, tomatoes, corn, black beans, avocado, cheese, and handmade crunchy tortilla strips. What could be better than that? Nothing! This fast, easy weeknight meal is much better than what you'll get from your local Mexican restaurant! Muy bueno!
Ingredients
1/2 can (28 oz) Keystone Chicken, undrained
1 can (27 oz) Keystone Chicken Broth
2 cans (14.5 oz) diced tomatoes and juice
1 can (15 oz) black beans, drained and rinsed
1 1/2 cups corn, frozen
1/2 Tbsp lime juice
1 Tbsp chili powder
3 tsp. cumin
1/2 tsp. cayenne pepper
1/3 cup fresh cilantro, chopped
4 garlic cloves, minced
1 cup red onion, diced
1 tsp. chili powder
1 jalapeño pepper, deseed and dice
4 Tbsp vegetable oil
10 small corn tortillas, cut into 1/4-inch wide strips
1/2 cup shredded cheddar cheese for topping
1 avocado, diced for topping
Steps
For Tortilla Strips: Preheat oven to 375F and line a baking sheet with foil. Cut tortilla in 1/4 strips and loosely scatter on baking sheet. Drizzle with vegetable oil and bake for about 12 to 15 minutes, or until crisp and lightly golden brown, set aside.
To Prepare Soup: To a large stockpot, add 2 tablespoons of vegetable oil and heat over medium-high heat for 2 minutes.
Add the onion and jalapeño and sauté for about 4 minutes, or until vegetables soften.
Add the garlic and sauté for 2 minutes.
Add the Keystone Chicken broth, tomatoes and juice, black beans, Keystone Chicken (with broth), corn, lime juice, chili powder, cumin, cayenne pepper, and bring to a boil. Allow soup to gently boil for 5 minutes. Add 1 to 2 cups of water or broth if liquid level looks low.
Add the cilantro and boil for 1 minute. Ladle soup into bowls, top with tortilla strips, garnish with avocado and cheese. Serve immediately.