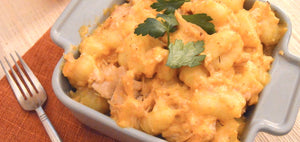 Gnocchi Chicken Mac and Cheese
Gnocchi isn't pasta (it's actually a dumpling made out of potatoes), but that didn't stop us from making a "mac" and cheese recipe your family is gonna love! And by adding Keystone Chicken, you not only make prep time easier, you also make a hearty meal that's ready in less than 35 minutes.
Ingredients
1 can (28 oz) Keystone Chicken, drained
1 lb gnocchi
1/4 cup salted butter
1/4 cup all-purpose flour
1 cup milk
8 oz sharp cheddar cheese, shredded
Steps
Boil the gnocchi according to package directions. Once cooked, remove and place on an 8x8 baking dish.
Preheat the oven to 350°F
Top the gnocchi with Keystone Chicken and set aside.
In a medium saucepan, melt the butter. Mix in the flour until it forms a paste.
Whisk in the milk. Add in the cheese and mix until it has melted and the sauce has thickened.
Pour the cheese sauce over the gnocchi and chicken.
Bake for 20 minutes or until cheese is browned.