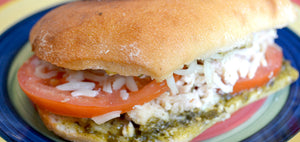 Grilled Cheesy Chicken & Pesto Sandwich
You'll say "presto" to this easy pesto sandwich! There's virtually no prep time with this recipe, especially when you open a can of fully cooked Keystone Chicken.
Ingredients
1 can (14.5 oz) Keystone Chicken
4 ciabatta rolls
1/4 cup mayonnaise
1/4 cup pesto
2 cups fresh or shredded mozzarella cheese
1 large tomato, sliced
Steps
Get a large pan or griddle ready by greasing it, and placing over medium-low heat.
In a small bowl, mix the pesto and mayonnaise.
Spread pesto-mayo mixture on each half of roll.
On one side, per sandwich, pile Keystone Chicken, mozzarella and tomato. Top the sandwich with the other slice of bread.
Place the sandwich on the heated pan, cover, and cook for 3 minutes per side, or until the cheese is melted.
Continue until all the ingredients are gone, and enjoy!