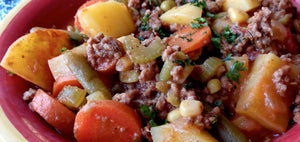 Hearty Beef Stew
Perfect for cold winter nights, this beef stew will warm parent's and children's bellies after playing in the snow. Keystones all natural beef and flavorful beef broth makes this recipe quick, easy and delicious. Warm, hearty vegetables and beef stew from prep to table in less than 20 minutes.
Ingredients
1 can (28 oz) Keystone Beef
1 can (27 oz) Keystone Beef Broth
1 bag frozen vegetables
1 large can diced tomatoes
1 tsp. sugar (Optional for Keto Diet)
1/2 tsp. thyme
Salt & pepper to taste
Steps
Add broth from Keystone Beef and enough Keystone Beef broth to equal 32 oz. to a large pot and bring to a boil.
Add Keystone beef and all ingredients and simmer for 10 minutes.
May be made up to 2 days ahead of time.