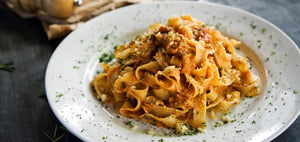 Hearty Hamburger Noodle
This warm and hearty meal is great for long autumn nights. Keystone's Ground Beef pleases the whole family. The cooking time and prep time is minimal, freeing your evening to other important tasks...like spending time with your family! Our all natural ground beef is made with only two ingredients and no preservatives!
Ingredients
1 can (28 oz) Keystone Ground Beef, undrained
3 cans (27 oz) Keystone Beef Broth or 1/2 (8 oz) jar Keystone Beef Soup Base
16 oz bag egg noodles
2 Tbsp flour
Steps
Bring ground beef with juices and broth to a boil in a large pan.
Add 2 Tbsp of flour to a bag of noodles and shake through.
Add noodles (with flour) to beef and broth.
Reduce heat, stir and simmer until noodles are tender.