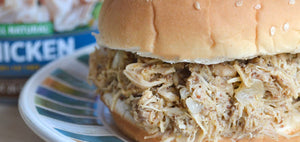 Honey Mustard Shredded Chicken Sandwich
All it takes is a bit 'o honey and a dash of brown mustard, to step up the classic shredded chicken sandwich! Perfect sandwich to sweeten up your tailgating party.
Ingredients
1 can (28 oz) Keystone Chicken
1/2 cup Honey
4 Tbsp Whole Grain Dijon Mustard
1/4 cup Onion, chopped
1/4 cup Water
Steps
Mix honey, mustard, onions and water. Pour mixture into large sauce pan.
Add Keystone chicken to sauce pan and toss with sauce.
Cook on medium for 10 minutes until heated through.