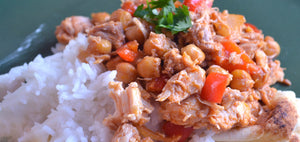 Indian Chicken Simmer
Add some spice to your dinner this week with an Indian inspired dish. This Indian Chicken Simmer is a one pan cook and prep dish, cutting cooking time in half. Just add Keystone Chicken, vegetables, beans and curry, then you're good to go! Wonderful for any time of the year.
Ingredients
1 can (28 oz) Keystone Chicken, drained
1 jar (8 oz) curry sauce
1/2 cup red peppers, sliced
1/2 cup sweet onion, sliced
1/4 cup golden raisins
1 can (15 oz) garbanzo beans, drained
1/4 cup cashews
2 cups rice, cooked
4-6 pieces of naan or flatbread
Steps
Sauté peppers, onions and garbanzo beans in a large pan with vegetable oil until golden brown. Add sauce and simmer for 10 minutes.
Add Keystone Chicken and raisins, heat through.
Serve on cooked rice, with naan or flatbread. Top with cashews or an herb of your choice.