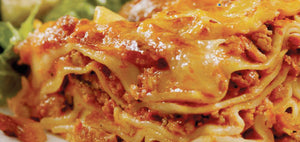 Italian Meat Lasagna
Close your eyes and think of your favorite Italian restaurant - the aroma, the clanking of dishes and the taste of authentic lasagna - now open your eyes to one of the easiest meat lasagna recipes you'll find around town. By using recipe ready Keystone Ground Beef, you'll cut your prep time without sacrificing flavor. Mama Mia, now that's an easy recipe!
Ingredients
1 can (28 oz) Keystone Ground Beef
1 Tbsp. olive oil
1/2 cup onion, chopped
2 cloves garlic, minced
1 jar (28 oz) spaghetti sauce
1 pkg no boil lasagna noodles
1 container (15 oz) ricotta cheese
1 tsp salt
1 egg lightly beaten
3 Tbsp. fresh parsley or 1 Tbsp dried
1/2 cup parmesan cheese
2 cup mozzarella cheese
Steps
Preheat oven to 375 degrees.
Sautee garlic and onion in olive oil until soft. Add Keystone Ground Beef, mostly drained, and most of tomato sauce, reserving about 1/4 cup for later. Heat through.
In a medium-sized mixing bowl, combine ricotta cheese, egg, salt, and parsley.
In a 9x13 greased baking dish, cover bottom of dish with an even layer of reserved tomato sauce. Then layer half of the noodles, spread with half the ricotta mixture, half of the tomato sauce mixture, and half of the mozzarella cheese. Repeat layers.
Bake in a 375 degree oven for 30 minutes or until heated thoroughly.