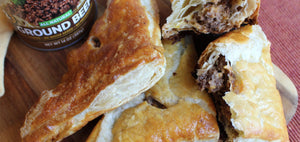 Keystone Beef Hand Pies
Our hand pies are easy enough to make for a quick weekend lunch, on-the-go meal, and picnics! They're a quick meal prep because you use fully cooked Keystone Meat as an ingredient. Savory filling tucked into a flaky pie crust that you can hold right in your hand? Give yourself a high five!
Ingredients
1/2 can (28 oz) Keystone Ground Beef

1 Tbsp. Minced garlic

1 large Onion, chopped

2 Tbsp. Worcestershire sauce

2 tps. Dijon mustard

1/2 cup Cheddar, shredded

1 sheet Frozen puff pastry, thawed

All-purpose flour, for dusting

1 large Egg, beaten
Steps
In a large skillet over medium heat, sauté the Keystone Ground Beef, minced garlic, and onion. Stir continuously for approximately 4 minutes.




Add the Worcestershire and Dijon. Remove from heat so the meat mixture can cool.




Fold in the cheese.




Preheat oven to 425 °F. Roll out thawed pastry on a lightly floured surface to a 14-inch square.




Cut into four equal squares and place a heaping spoonful of the beef mixture onto each square. Brush the edges with egg, and fold one corner of each pie over, forming a triangle.




Press gently to seal.




Place pies on a parchment-lined baking sheet. Brush tops with more egg.

Cut one slit on top of each pie.




Bake until golden brown, about 20 minutes.