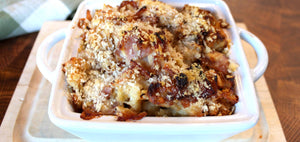 Keystone Chicken Cordon Bleu
We've taken the classic Chicken Corden Bleu recipe and put our own cassorole twist on it! That's right, we've added fully cooked Keystone Chicken, cheese and cauliflower to make a hearty and oh, so creamy new family favorite. This recipe is so good, your family will never be bleu again.
Ingredients
1 can (28 oz) Keystone Chicken, drained
1 head cauliflower, cut into florets
1 cup heavy cream
1/2 cup sour cream
2 Tbsp Dijon mustard
2 cloves garlic, minced
1/2 pound ham, sliced
2 cups Swiss cheese, shredded
1/2 cup bread crumbs
Steps
Preheat the oven to 450 degrees F.
In a large bowl, toss the cauliflower with oil.
Place cauliflower on a baking sheet and roast in the oven for about 30 minutes, until golden brown.
While cauliflower roasts, in a large bowl stir together heavy cream, sour cream, Dijon mustard, minced garlic and the shredded cheese. Stir in the Keystone Chicken and ham.
Once cooked, take cauliflower out of the oven and reduce the oven temperature to 400 degrees F.
Stir the cauliflower into the casserole mixture. Transfer the casserole mixture into a 9 x 13 in casserole dish. Sprinkle the bread crumbs on top and bake for 10 minutes or until the cheese is melted and golden.