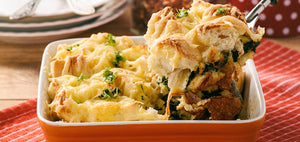 Keystone Chicken, Spinach and Egg Bake
We took the "common" egg casserole and added all natural Keystone Chicken, fresh spinach, red bell pepper, and tangy feta cheese for a delicious new take on your Saturday morning breakfast or Sunday brunch.
Ingredients
1/2 can (28 oz) Keystone Chicken, drained
3 Tbsp olive oil
2 tsp. minced garlic
5 oz fresh spinach, chopped
1/2 cup red bell pepper, chopped
10 eggs
1 1/2 cups half-and-half
1/4 tsp. black pepper
6 oz feta cheese, crumbled
1 can (10.2 oz) refrigerated buttermilk biscuits (5 Count)
Parsley for garnish
Steps
Heat oven to 350°F. Spray 13x9-inch baking dish with cooking spray.
In medium skillet, heat oil over medium-high heat. Add bell pepper and cook for 3 minutes until tender. Add garlic; cook 30 seconds. Slowly add spinach, and cook until just wilted. Remove skillet from heat.
Separate biscuit dough and cut each each biscuit into 8 pieces, and place evenly in baking dish.
In large bowl, beat eggs, half-and-half, and black pepper until mixed well. Stir in Keystone Chicken, feta cheese and spinach mixture; mix well.
Pour mixture over biscuits in baking dish. Bake uncovered for 30 to 35 minutes or until knife inserted in center comes out clean and biscuits are deep golden brown. Garnish with green parsley and serve warm.