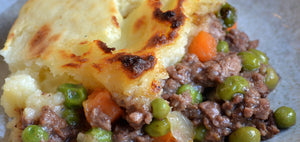 Keystone Shepherd's Pie
We've taken the traditional Shepherd's Pie recipe and made it so easy to prepare! There's no need to shop for special ingredients because this recipe uses items you already have in your pantry. You'll have this meal on the table in less than 35 minutes when you use precooked Keystone Ground Beef.
Ingredients
1 can (28 oz) Keystone Ground Beef
1 yellow onion, diced
1 can (10 oz) cream of mushroom soup
1 cup frozen peas and carrots
1 1/3 cups, instant mashed potato flakes
1 cup milk
2 Tbsp. butter
1 Tbsp. ketchup
Black pepper, to taste
Steps
Preheat oven to 400 degrees.
Sauté the onion in a large skillet over medium-high heat until golden brown. Add the Keystone Ground Beef until heated through.
Stir condensed cream of mushroom soup, ketchup, peas and carrots, and black pepper to the skillet. Stir until combined, and pour into in 9-inch pie plate.
Prepare mashed potatoes according to the package.
Spoon mashed potatoes over beef mixture, and bake at 400 degrees for 15 minutes or until potatoes are lightly browned.