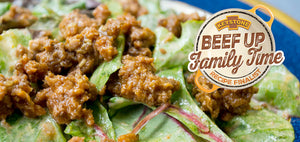 Korean Town Salad Bowl
This recipe is an easy way to get the authentic Korean flavors you love with quick kitchen prep time. A light meal with full flavor, it's the perfect back-to-school dinner. A special thank you to Vivian T., one of our "Beef Up Family Time Recipe Contest" finalists!
Ingredients
1 can (28 oz) Keystone Ground Beef
1 tsp. Keystone Beef Soup Base
2 Tbsp. Sriracha hot sauce
2 Tbsp. garlic powder
2 cups prepared ranch dressing
1 tsp. powdered ginger
1/2 cup reduced sodium soy sauce
1/2 cup ketchup
2 Tbsp. brown sugar
1 Tbsp. sesame oil
1 Tbsp. sesame seeds
1/4 tsp. red pepper flakes
2 bags (10 oz) of garden salad blends
2 green onions, sliced thin (optional)
Steps
In a medium bowl, whisk together the ranch dressing and Sriracha. Chill until plating salads.
Bring a large skillet to medium heat, add the Keystone Ground Beef and sauté.
In a medium bowl, whisk together garlic powder, Keystone Beef Base, ginger, soy sauce, ketchup, brown sugar, sesame oil and red pepper flakes. Pour over the beef and bring mixture to a boil for 2 minutes.
Divide the salad blend between 6 bowls, top each with an even amount of the beef mixture; drizzle with the Sriracha ranch dressing and garnish with green onions if using. Serve immediately.