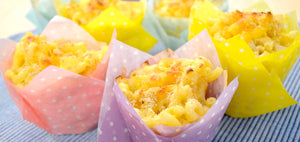 Mac and Cheese Party Poppers
Turn your ordinary event into an extraordinary mac and cheese party! These Mac and Cheese Party Poppers will brighten up any affair and because this easy recipe uses Keystone Turkey, prep time is cut in half. This kid-friendly recipe is just the right size for your next brunch or birthday party!
Ingredients
1/2 can (28 oz) Keystone Turkey, drained and shredded
2 cups uncooked elbow macaroni
1 1/2 cups mozzarella cheese, shredded
1 cup milk
2 1/2 cups sharp Cheddar cheese, shredded
3 Tbsp. butter
1/4 tsp garlic powder
1/2 tsp salt
1/2 tsp black pepper
1/2 cup bread crumbs, optional
Steps
Preheat the oven to 350° F. Grease a muffin tin with nonstick cooking spray or skip this step if you are using muffin liners.
Bring a large pot of water to a boil. Add the macaroni and cook for about 8 minutes, it should still be a little bit firm.
Remove from the heat, drain and return to the pan; stir in the butter, salt, pepper, garlic powder and eggs until pasta is coated. Reserve 1/2 cup of sharp Cheddar cheese and stir the remaining Cheddar cheese, milk and mozzarella cheese into the pasta. Mix well.
Add Keystone Turkey into the pasta, mix well.
Spoon into the prepared greased muffin tin or paper muffin liners. Sprinkle the reserved cheese and the bread crumbs over the tops.
Bake for 25 minutes or until the topping is browned. Allow the muffins to cool for a few minutes before removing from the pan.