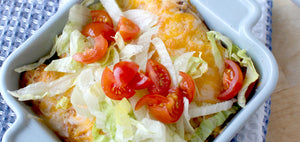 Mexican Beef Casserole
Enjoy this quick and easy Mexican Beef Casserole! Easy because you use fully cooked Keystone Beef and tasty for the same reason!
Ingredients
 1/2 can (28 oz) Keystone Beef, drained
1 small onion, chopped
1 tbsp chili powder
1 tsp ground cumin
4 cups green chilies, finely diced
1 cup tomatoes, chopped
1 cup black beans
1 cup corn
2 tbsp  ketchup
1 cup cheddar cheese, shredded
6-8 corn tortillas
2 tomatoes, chopped for topping
2 cups lettuce, shredded for topping
Steps
Add onion to a large frying pan and fry for 3 minutes.

Add the spice and tomatoes to the mixture. Simmer for 10 minutes.

Mix in Keystone Beef, black beans, corn, ketchup, 3 tbsp water, and simmer for 8 minutes.

Lay each tortilla flat and add the mixture inside.

Roll up and pack each tortilla tightly and place side by side in a 9 x 12 casserole dish.

Sprinkle with the cheddar cheese and place under the broiler for about 4- 5 minutes or until cheese is melted.

Remove from oven and top with tomatoes and lettuce.

Serve hot.