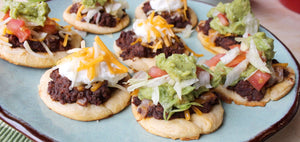 Mexican Bruschetta
This easy recipe is a Mexican twist on your favorite bruschetta recipe. These unique bite-sized treats are perfect as an appetizer or a quick dinner for the kids. And because you use Keystone Ground Beef, there's no greasy splatter which saves you time in prep and clean up!
Ingredients
1 can (28 oz.) Keystone Ground Beef, drained
1 can (15 oz) refried beans
1/2 cup chopped onion
1 package taco seasoning
1 (8 ounces) refrigerated crescent rolls
1-1/2 cups shredded cheddar cheese
1 cup shredded lettuce
2 tomatoes, diced
Guacamole and sour cream, optional
Steps
Preheat oven to 350°.
In a large skillet, add Keystone Ground Beef, refried beans, onions and taco seasoning, mix well. Heat over medium heat until warmed throughly.
Add flour to cutting board flour and unroll crescent dough. Use a round cookie cutter to cut out each piece and place onto a greased cookie sheet.
Spread beef mixture over each round cut crust and sprinkle with cheese.
Bake until golden brown, about 15 minutes or until sides are browned. Remove from oven and add lettuce, tomatoes and optional guacamole and sour cream.